Everyone in the book industry says it: At the Forest of Reading awards, authors are treated like rock stars. Well, I'm a skeptical girl and didn't quite believe the hype, but after going to the Festival of Trees ceremony yesterday as a White Pine award nominee, I can tell you: I felt like a rock star. I stood on a stage as fans screamed for my book–my book!–, people stood in long lines for my autograph, 3 people asked me to sign their arms, and one girl told me that Cassandra Clare used to be her favourite author–but that was before she read Witchlanders!
We writers spend so much of our time in private, sitting alone at our computers, that it's easy to lose the connection between us and the people who read our books. I'm so glad I got a chance to reforge that bond by meeting so many enthusiastic teen book lovers. Here's a recap of my day:
Wednesday morning I was the first early-bird author to arrive at 9AM at Harbourfront Centre for Canada's largest children's literature event, the Forest of Reading, Festival of Trees, two days of of award ceremonies, fun workshops, author signings, and other exciting activities that celebrate the shared experience of reading. 6000 people were expected to attend over the two days.
I was soon joined by a few fellow White Pine Award nominees and we all waited to be called up on stage.
Teen readers had been chosen to introduce our books and carry our banners onto the stage.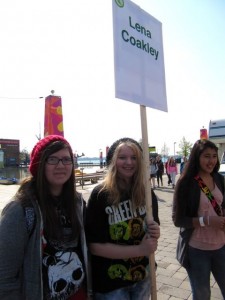 On stage is where everything became a blur.  I've never heard anyone scream for books before!  Okay, maybe when I went to hear JK Rowling speak, but that was the only time!
All the nominees were asked to speak for one minute about their book.  Here's what I said:
Witchlanders was a labour of love.  It took me ten years to write.  Ten years! So if you think about it, many of you in the audience hadn't even started school yet when I started writing the book back in 2001.  Believe it or not, when I started out, many people asked me why I was even bothering to write a fantasy novel.  YA fantasy, especially high fantasy, wan't very popular back then; it didn't sell.  My answer was always: I'm writing the book that I wanted to read when I was 17 years old.  The two protagonists in my novel, Ryder and Falpian, were calling to me, and I had to write their story, whether anyone would publish it or not.
So it came as a surprise and a delight to me that not only was Witchlanders published, but that it found fans and was nominated for this award. Choice awards like the White Pine are especially meaningful to authors because they are chosen by you, our readers.  I'm so proud to be standing here with some of the best authors in my field.  Thank you.
And then, it seems, I flaked.
Names of the three finalists were called.  I heard Jeyn Roberts's name, author of Dark Inside, and Catherine Austen's, author of All Good Children.  They stood up.  Then Jeyn Roberts was announced as the big winner. I clapped frantically for my fellow author.  As we all left the stage and someone handed me a certificate.  It said that Witchlanders was an honour book.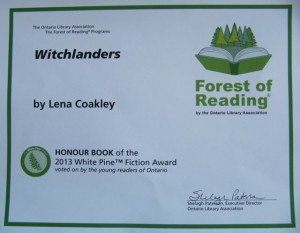 That's right, Witchlanders won a White Pine honour and I had somehow missed my name being called!  (In my defence, there was a lot of screaming going on. Also, I'm a bit spacey.)  Of course I was totally delighted.
Upon leaving the stage, something happened that has never happened to me before and will probably never happen again: I was mobbed for autographs!  It was awesome.  I'm particularly happy that my niece was with me at the time so she could tell my family that this happened, because otherwise they would never believe it in a million years.
Since I signed so many autographs leaving the stage I thought that there would be no one at my official signing a half hour later.  Not so! They were lined up to meet me.
As I was signing, the Red Maple awards were going on.  Winners were The Vindico by Wesley King for the Red Maple Fiction award and Real Justice:  Fourteen and Sentenced to Death by Bill Swan for the Red Maple Non-Fiction award.  (When I get the official press release, I will update and tell you who the honourees were for these awards.) I was lucky enough to just catch Bill's win and dacceptance speech as I was coming out of my autograph session.
After a quick lunch Megan Crewe and I rushed off to do a joint writing workshop.  One of the great perks of being nominated for this award has been that I've had a chance to get to know the nominees a little better.  On our way out, look who we ran into!
Martin Springett was fresh from winning the Blue Spruce award for Kate and Pippin.  His and all the Forest of Reading award plaques feature artwork by a child reader. (Again, when I get the official press release, I'll update with the names and titles of the honourees.)
After the ceremonies were over, there was a reception for all the winners and nominees, their friends in publishing, and all the hardworking librarians who made this day possible.
Thank you so much Ontario Library Association, for giving me my rock star moment.