Last week I posted some of my favourite book trailers in hopes that they would inspire me to make my own.  This week I've been madly writing a script and gathering photos, music and video clips.  Here are the steps I've taken so far, along with some of the great sites and programs I've found to help me make my very own Witchlanders book trailer.
Step One: Draft a Script
Keep it short: As a general rule, I find book trailers too cheesy and too long.  I've tried to think of my trailer as an elevator pitch with images.
Be Flexible: Remember that you might not find the exact photos you want.  If you keep your script flexible at first, you'll have a guideline for your image search, but you'll be open to discovering that perfect picture you didn't even know was out there.
Step Two: Gather Photos and Video
Search your own photos: I'm surprised by how many of my own photos I'll be able to use.  Living in Canada, I've got a number of winter pictures that will be perfect for snowy backgrounds.  And because I visited the Paris catacombs a few years back, I've got more pictures of sculls than is generally considered normal.  Hey!—my main character visits some catacombs… Things are coming together.
Respect Copyright: Just because you find a photo on Google Images doesn't mean it's in the public domain. If you can't find the right image in your own collection, it's better to use a stock image site where the terms of use are clearly spelled out.
Free Photos: The best site I found for free stock photos was Stock.XCHNG.  Make sure you look at the terms of use for each photo, though.  Most photographers wish to be credited for their work, and some wish to be credited on the screen where the photo appears, which wouldn't be appropriate for a trailer.  Some photographers also wish to be notified when you use their images.
Low-Price Stock Photos:  I really enjoyed perusing the beautiful pictures at iStock.  You can download a complimentary watermarked photo to see if you really want to use it before you buy.  And they've got video clips too!
Don't forget where you found that perfect image! iStock allows you to create what's called a Lightbox to store your possible pics.
Step Three: Tweak Your Photos
Photo Manipulation: Maybe my best discovery of the week was GIMP.  It's a FREE image manipulation program similar to Photoshop.  You don't have to be a designer to use this program, but if you've never used image manipulation software before, it can take some practice.  Because my book is a fantasy, I really need it to do things like transforming the stock picture I found for my main character from this: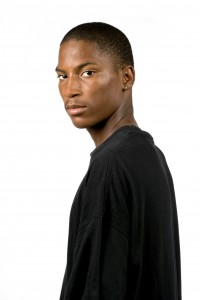 To this: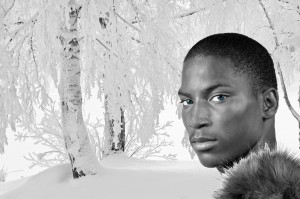 Step Four: Find the Right Music
So many trailers lose me by having cheesy music.  This is something I'm willing to pay for, but many authors have found great free audio as well.
Free Music (donation appreciated) at Incompetech: This is where Maggie L. Wood found the eerie music she used in her trailer (featured last week).
Low-Price Stock Audio: Don't miss that you can get stock audio on the iStock website as well as images.  You can also get stock sounds like barking dogs, swords clashing and wind blowing.
Sound Editing:  I already knew about Audacity, the FREE cross-platform sound editor.  I've purchased some music I want to use from iStock, but it's a little long.  Audacity will come in handy when I want to cut it.
Step Five: Putting it all together
Now all I have to do is put it all together with the Windows Movie Maker program that's already on my computer—and probably on yours too.  Have I ever done this before? NO!  Am I worried…A LITTLE!
Come back next week to see the finished product!
And by the way, my good friend Ian Krykorka helped me to put a "Follow Me on Google Friend Connect" button on my site this week.  I hope you'll click it and follow me!