So far I have published two novels, Worlds of Ink and Shadow and Witchlanders. Read about them here!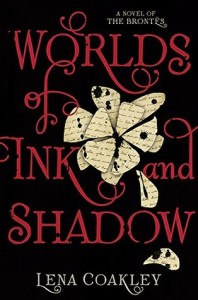 An ingenious premise and a richly drawn cast of characters make for an eerie and compelling read in this fantastical origin story of the Bronte siblings.
— Kenneth Oppel
Amulet Books (US); Harper Collins Canada (Canada); Abrams & Chronicle Books (UK)
Hardcover, 352 pages
ISBN-10: 1443416592
ISBN-13: 978-1443416597
 Grades 7 and up.
From Goodreads:
Charlotte, Branwell, Emily, and Anne. The Brontë siblings have always been inseparable. After all, nothing can bond four siblings quite like life in an isolated parsonage out on the moors. Their vivid imaginations lend them escape from their strict upbringing, actually transporting them into their created worlds: the glittering Verdopolis and the romantic and melancholy Gondal. But at what price? As Branwell begins to slip into madness and the sisters feel their real lives slipping away, they must weigh the cost of their powerful imaginations, even as their characters—the brooding Rogue and dashing Duke of Zamorna—refuse to let them go.
Gorgeously written and based on the Brontës' juvenilia, Worlds of Ink & Shadow brings to life one of history's most celebrated literary families.
More about Worlds of Ink and Shadow
–

* Exquisite storytelling plus atmospheric worldbuilding equals one stunning teen debut. Kirkus Reviews (starred review) Read the full review here.
x
Atheneum (S&S), Fall 2011
Hardcover, 416 pages
ISBN-10: 1442420049
ISBN-13: 9781442420045
Grades: 7 and up
High in their mountain covens, red witches pray to the Goddess, protecting the Witchlands by throwing the bones and foretelling the future.
It's all a fake.
At least, that's what Ryder thinks. He doubts the witches really deserve their tithes—one quarter of all the crops his village can produce. And even if they can predict the future, what danger is there to foretell, now that his people's old enemy, the Baen, has been defeated?
But when a terrifying new magic threatens both his village and the coven, Ryder must confront the beautiful and silent witch who holds all the secrets. Everything he's ever believed about witches, the Baen, magic and about himself will change, when he discovers that the prophecies he's always scorned—
Are about him.