So many book bloggers know so much more than I do about what's coming out in 2011 that I've been a bit shy about posting my wish list. But then I realized I AM compiling quite a catalog of YA sci-fi and fantasy novels I can't wait for. Plus, it's a good excuse to drool over some purdy, purdy covers! All descriptions are from the publishers' websites except where noted.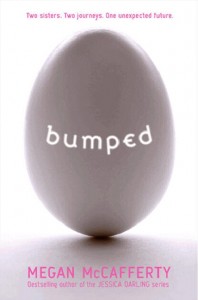 Bumped by Megan McCafferty
When a virus makes everyone over the age of eighteen infertile, would-be parents pay teen girls to conceive and give birth to their children, making teens the most prized members of society. Girls sport fake baby bumps and the school cafeteria stocks folic-acid-infused food.
Sixteen-year-old identical twins Melody and Harmony were separated at birth and have never met until the day Harmony shows up on Melody's doorstep. Up to now, the twins have followed completely opposite paths. Melody has scored an enviable conception contract with a couple called the Jaydens. While they are searching for the perfect partner for Melody to bump with, she is fighting her attraction to her best friend, Zen, who is way too short for the job.
Harmony has spent her whole life in Goodside, a religious community, preparing to be a wife and mother. She believes her calling is to convince Melody that pregging for profit is a sin. But Harmony has secrets of her own that she is running from.
When Melody is finally matched with the world-famous, genetically flawless Jondoe, both girls' lives are changed forever. A case of mistaken identity takes them on a journey neither could have ever imagined, one that makes Melody and Harmony realize they have so much more than just DNA in common.
Can you say premise? This one's coming soon and I can't wait!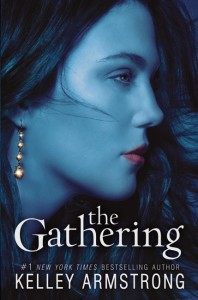 The Gathering by Kelley Armstrong
Strange things are happening in Maya's tiny Vancouver Island town. First, her friend Serena, the captain of the swim team, drowns mysteriously in the middle of a calm lake. Then, one year later, mountain lions are spotted rather frequently around Maya's home—and her reactions to them are somewhat . . . unexpected. Her best friend, Daniel, has also been experiencing unexplainable premonitions about certain people and situations.
It doesn't help that the new bad boy in town, Rafe, has a dangerous secret, and he's interested in one special part of Maya's anatomy—her paw-print birthmark.
I hate to admit it, but I avoided KA's books for far too long because I found the covers for her Darkest Powers series a bit…fromage. I should NOT have stayed away. She is a great writer who writes compelling, compelling characters.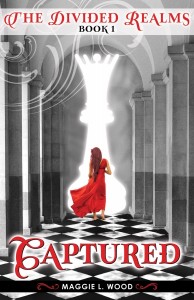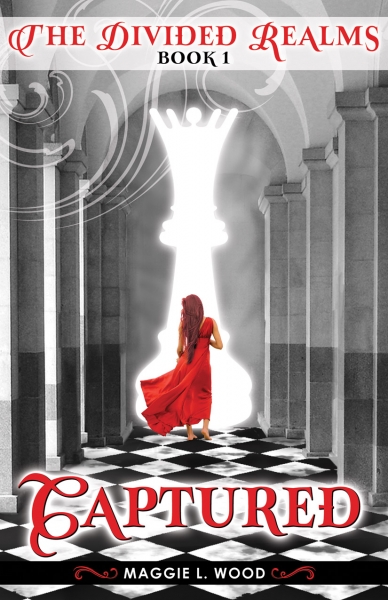 Captured by Maggie L. Wood
Fifteen-year-old Willow Kingswell has been listening to her Nana's tales of faeries and enchanted kingdoms for as long as she can remember. But when she is magically transported to the realm of Mistolear, she is stunned to learn that the stories were true, and that she is actually a princess. Suddenly, Willow has to fit into a royal family she didn't know she had, deal with customs she doesn't understand, and sort out her feelings for Brand, the handsome knight who has sworn to protect her.
On top of everything, she may also be the key to saving Mistolear from a terrifying spell. The nefarious faerie prince Nezeral has pitted two kingdoms against each other in a life-or-death chess match, in which people are the game pieces. As a pawn, Willow now glows with the light of the game, and must find the courage and cleverness to battle Nezeral before her loved ones fall. Could a meager pawn really be the most powerful piece on the board? Captured is the first book in the thrilling"Divided Realms" series.
I love the idea of a life or death chess match!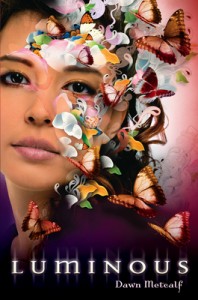 Luminous by Dawn Metcalf
(Please note: This description is from Goodreads)
As reality slips and time stands still, Consuela finds herself thrust into the world of the Flow. Removed from all she loves into this shifting world overlapping our own, Consuela quickly discovers she has the power to step out of her earthly skin and cloak herself in new ones-skins made from the world around her, crafted from water, fire, air. She is joined by other teens with extraordinary abilities, bound together to safeguard a world they can affect, but where they no longer belong.
When murder threatens to undo the Flow, the Watcher charges Consuela and elusive, attractive V to stop the killer. But the psychopath who threatens her new world may also hold the only key to Consuela's way home.
Ooh, this sounds cool. I've had a big thing for shapeshifter characters ever since Maya in Space 1999. (Stop dating yourself, Lena.)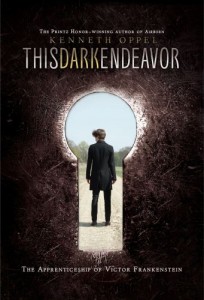 This Dark Endeavor by Kenneth Oppel
Victor and Konrad are the twin brothers Frankenstein. They are nearly inseparable. Growing up, their lives are filled with imaginary adventures…until the day their adventures turn all too real.
They stumble upon The Dark Library, and secret books of alchemy and ancient remedies are discovered. Father forbids that they ever enter the room again, but this only peaks Victor's curiosity more. When Konrad falls gravely ill, Victor is not be satisfied with the various doctors his parents have called in to help. He is drawn back to The Dark Library where he uncovers an ancient formula for the Elixir of Life. Elizabeth, Henry, and Victor immediately set out to find assistance in a man who was once known for his alchemical works to help create the formula.
Determination and the unthinkable outcome of losing his brother spur Victor on in the quest for the three ingredients that will save Konrads life. After scaling the highest trees in the Strumwald, diving into the deepest lake caves, and sacrificing one's own body part, the three fearless friends risk their lives to save another.
Get OUT! One of my favourite authors meets one of my favourite gothic novels? I'm there.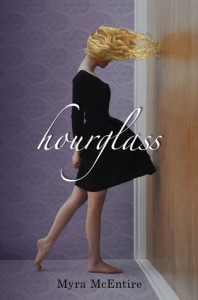 Hourglass Myra McEntire
For seventeen-year-old Emerson Cole, life is about seeing what isn't there: swooning Southern Belles; soldiers long forgotten; a haunting jazz trio that vanishes in an instant. Plagued by phantoms since her parents' death, she just wants the apparitions to stop so she can be normal. She's tried everything, but the visions keep coming back.
So when her well-meaning brother brings in a consultant from a secretive organization called the Hourglass, Emerson's willing to try one last cure. But meeting Michael Weaver may not only change her future, it may change her past.
Who is this dark, mysterious, sympathetic guy, barely older than Emerson herself, who seems to believe every crazy word she says? Why does an electric charge seem to run through the room whenever he's around? And why is he so insistent that he needs her help to prevent a death that never should have happened?
I am such a sucker for a wicked cool cover. Even if I didn't find the description compelling—and I do!—I would buy this book just to look hip reading it on the subway.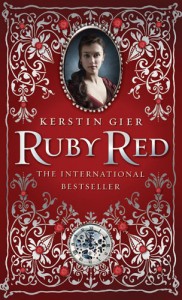 Ruby Red Kerstin Gier
Gwyneth Shepherd's sophisticated, beautiful cousin Charlotte has been prepared her entire life for traveling through time. But unexpectedly, it is Gwyneth, who in the middle of class takes a sudden spin to a different era!
Gwyneth must now unearth the mystery of why her mother would lie about her birth date to ward off suspicion about her ability, brush up on her history, and work with Gideon–the time traveler from a similarly gifted family that passes the gene through its male line, and whose presence becomes, in time, less insufferable and more essential. Together, Gwyneth and Gideon journey through time to discover who, in the 18th century and in contemporary London, they can trust.
This one's gotten rave reviews in its original language (German) and now the raves seem to be rolling in for the translation too. Plus, it's time travel, so what's not to like?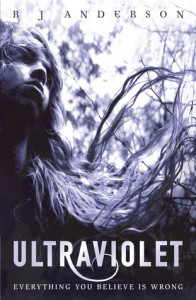 Ultraviolet by RJ Anderson
Once upon a time there was a girl who was special.
This is not her story.
Unless you count the part where I killed her.
Sixteen-year-old Alison has been sectioned in a mental institute for teens, having murdered the most perfect and popular girl at school. But the case is a mystery: no body has been found, and Alison's condition is proving difficult to diagnose. Alison herself can't explain what happened: one minute she was fighting with Tori – the next she disintegrated. Into nothing. But that's impossible. Right?
I've really enjoyed Anderson's MG books and can't wait to see what she'll do with YA!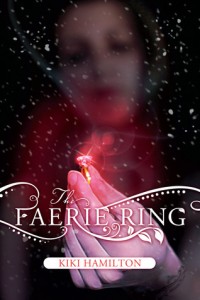 The Faerie Ring by Kiki Hamilton
(Please note: This description is from Goodreads.)
London, December 1871
Orphaned and picking pockets in London's Charing Cross station to support not only herself, but her 'family' of orphans, sixteen year-old Tiki steals the Queen's ring and thinks she's solved their problems. That is, until Rieker, a pickpocket from the North End, suspects her in the theft and tells her that the ring is really a reservoir that holds a truce between the British and Faerie courts.
When he warns her that the fey will do anything, including murder, to recover the ring, Tiki is unsure whether to believe him or not. To complicate matters, Rieker seems to know something about the unusual birthmark on Tiki's wrist. But when Tiki and her family are threatened the game changes.
I love a good thief story. And adding the faerie realm into the mix gives it a real twist!
And finally…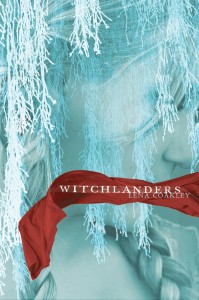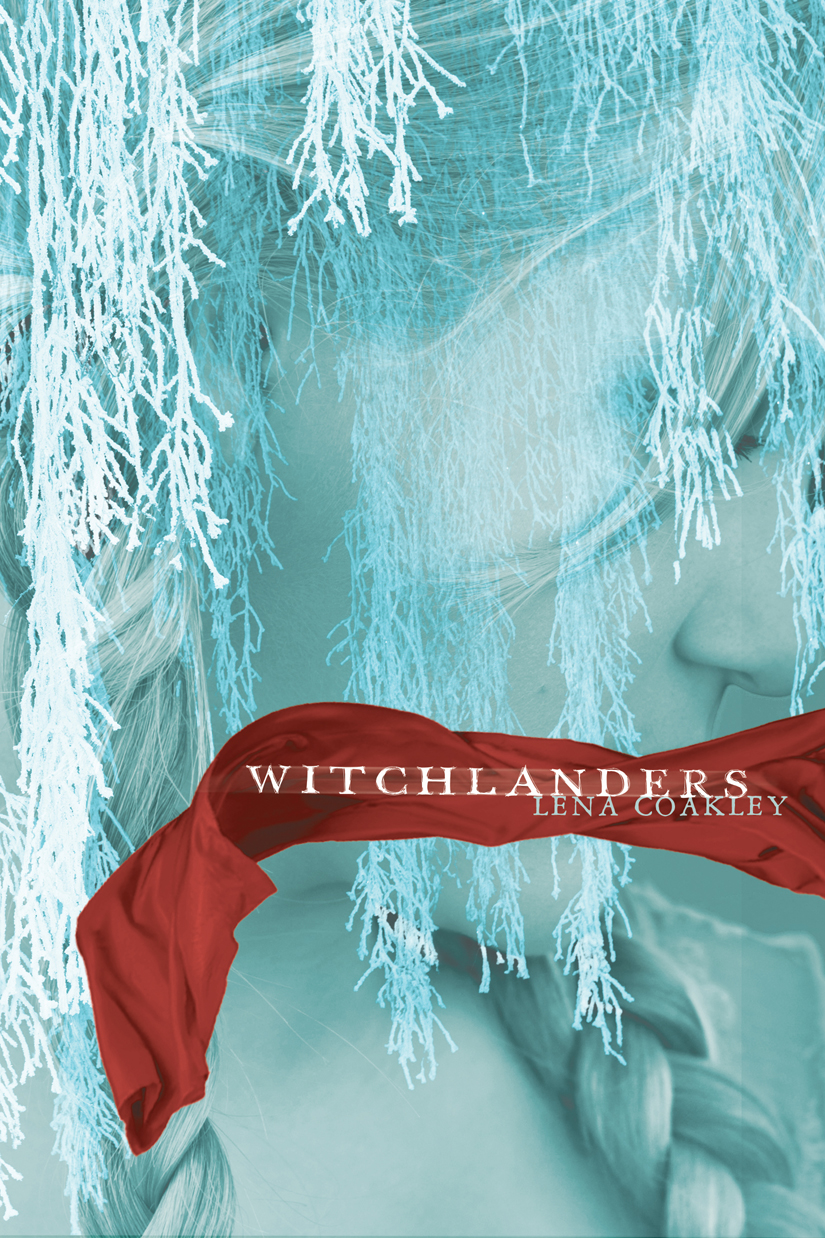 Witchlanders by Lena Coakley
High in their mountain covens, red witches pray to the Goddess, protecting the Witchlands by throwing the bones and foretelling the future.
It's all a fake.
At least, that's what Ryder thinks. He doubts the witches really deserve their tithes—one quarter of all the crops his village can produce. And even if they can predict the future, what danger is there to foretell, now that his people's old enemy, the Baen, has been defeated?
But when a terrifying new magic threatens both his village and the coven, Ryder must confront the beautiful and silent witch who holds all the secrets. Everything he's ever believed about witches, the Baen, magic and about himself will change, when he discovers that the prophecies he's always scorned—
Are about him.
I hear this one is pure genius. All the other books are jealous.
I know I've missed a lot, and this list is sure to change and grow over time.  What forthcoming books are you looking forward to?