My first novel is coming out in three months and I've gone tharn.  I'm a Watership Down bunny, wide-eyed and paralyzed, unable to move as the oncoming truck of my release date barrels toward me.
On the one hand, I love that I'm publishing at a time when a book's promotion isn't completely out of an author's hands.  I have Twitter, Facebook, blogs, websites, give-aways, book trailers, Goodreads, tumblr, StumbleUpon, message boards, and a thousand other tools to help me get the word out.  But does joining Twitter and Facebook actually translate into book sales?  Do I really want to start annoying my friends with commercials for my book?  And how can a shy author who covets invisibility above all other superpowers develop herself into a brand?
Luckily, I already have to best superpower of all: great author friends.  And so I asked the best promoter I know, my friend Cheryl Rainfield, author of SCARS, if she had any advice on book promotion for a first-time author.  Here's what she said:
Hi Cheryl Rainfield!  Thanks for answering a few questions from an overwhelmed author!
I'm glad you asked me; thank you!
Cheryl, the publisher for SCARS was fairly small and fairly new.  You were a first-time author.  And yet, you had sold out a large portion of your first print run before you even had your book launch!  What do you think was the most important thing you did to make that happen?
I think having a strong online presence has helped promote SCARS immensely and made sure it didn't get buried by all the other books coming out.  And by a strong presence I mean I have a blog and website that I update regularly. I am on Twitter most every day-*interacting* with other people and re-tweeting things I care about, and I am also on FaceBook, GoodReads, and JacketFlap (I set my blog to automatically post there, as well as on my author page at Amazon). I have author pages on the websites where I'm a member, such as SCBWI and CANSCAIP. I am also very active on email, answering all reader letters and being part of various e-lists. I just joined the Red Room and will see how that goes.
I also think it helps to have written the best book that you can, and to care deeply about the book.
A Canadian publisher once told me that a Governor General's Award nomination made little difference to a book's sales, but you managed to make that nomination work for you.  How did you do that?
Hm. I'm not sure that being a GG finalist helped me with sales in Canada. SCARS is selling really well and keeps selling really well in the US, where my publisher is based. I mention the awards and lists that SCARS got where I can—I try to list them on my site and on GoodReads. I just keep (gently) promoting my book when and where I can.
Everyone is making a book trailer these days, but I've seen a lot of bad ones.  Do teens really watch them and how important do you think they are?
I think teens who are avid readers watch book trailers. I've had teens commenting on my book trailer on YouTube. But I'm not sure they seek them out.  As of today, about a year after SCARS and the book trailer were released, I've had 4170 plus views of the trailer, which I think is pretty neat.
I don't think book trailers alone are key, but I do think that they're one more way to help get the word out about your book, and I think they can be a good tool in book promotion. And I think they're starting to catch on more. I did a book trailer for SCARS, and I'm going to do another for HUNTED (coming out this Oct). I know when a book trailer is good, I enjoy watching it, and if it interests me, I go out and buy the book or at least check it out.
There is such a fine line on Twitter and Facebook between successfully using those media to promote books and just annoying people with a lot of commercials for yourself.  How do you navigate that?
I try to make sure that I'm part of the community—that I offer helpful things to people, that I respond as a person, who I am, as well as an author. I make sure to help other authors, readers, and people. I re-tweet or post things that interest me that other authors, readers, people have posted or tweeted. I don't just talk about my books, because I know that's annoying when I'm on the receiving end of it, and also it can feel pretty empty if that's all you're doing. I like connecting with people.
I also try to take part in Twitterchats when I remember to and have the energy, though I can't always. Debbie Ohi has a fantastic list of Twitterchats for writers, and also some great instructions on how to be a part of Twitter. I especially recommend YAlitchat for YA authors, and kidlitchat for all children's and YA authors. It also really helps if you use Tweetchat to follow and take part in Twitterchats. (Type in the twitterchat hashtag (ie. #Yalitchat) at the time of the chat and you'll see all the tweets.)
Is there any other advice you'd give to an author about to launch her first novel?
Know that while your publisher will do some book promotion, it helps so much more if you do as much as you can. Reach out to the communities you're a part of about your book. Keep an online presence in the social media that you're comfortable in, and really participate. Host a contest for your book. Offer valuable content on your blog or site. Have bookmarks that you can give out at book signings, conferences, or to readers who request them.
If you can afford it, it can really help to hire a good book publicist. They can really help you with getting TV or radio interviews, book reviews, and more. If you can't, it just means doing as much book promotion as you can. I buy copies of my own book and then send them out to online reviewers who've agreed to do reviews; I think it helps. Guest posts and interviews may also help to get your book out there.
And, at least in my opinion, book promotion doesn't stop once the book is out. I think some people think you only promote your book for the first month or so. I think of it as an ongoing process that never stops—to keep yourself as an author, and your book, in the awareness of people. I think of it as part of my job as a writer, though I'm still struggling to find a balance between necessary book promotion, and writing.
Good luck with promoting your book!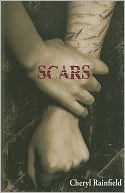 Cheryl Rainfield is the author of SCARS (an ALA Top 10 Quick Picks, GG  nominated & Rainbow List book) about Kendra, a girl who must face her past and stop hurting herself before it's too late, the upcoming HUNTED about Cassie, a telepath on the run from government troopers who must choose between saving herself or saving the world, and two hi-lo (high interest, low vocabulary) fantasies: SKINWALKERS: WALKING BOTH SIDES, and DRAGON SPEAKER: THE LAST DRAGON.
Check out Cheryl's site at www.CherylRainfield.com, her book blog at www.CherylRainfield.com/blog, or follow her on Twitter at www.twitter.com/CherylRainfield.
Thanks so much, Cheryl!  Any comments on Cheryl's interview or on book promotion would be greatly appreciated!