I'm just back from a whirlwind trip to Ottawa, the highlight of which was undoubtably receiving my SCBWI Crystal Kite Award!  SCBWI conference organizers Lizann Flatt , Rachel Eugster and Alma Fullerton did an incredible job gathering a stellar lineup of speakers.  Here are some of the published attendees at a reading at Collected Works bookstore on the Friday night:
On Saturday the conference officially started.  Promptly at 8:30 AM we were welcomed by the hilarious Alan Silverberg and for the next two days, our time was crammed with workshops, lectures and break-out sessions.  Alan's humour was a highlight for me, as was Darcy Pattison's novel revision workshop.  I also got to meet Maria Middleton, Associate Art Director at Abrams Books for Young Readers, my new publisher.
Then this happened!
For those who don't know, the Crystal Kite Awards are given by the Society of Children's Book Writers and Illustrators each year to recognize great books from 15 regional SCBWI divisions around the world.  They are chosen by other children's book writers and illustrators, making them the only peer-given awards in publishing for young readers. I'm so very honoured to be one of this year's winners.  The fact that's it's an award given by other children's authors and illustrators makes it especially dear to my heart.  Thank you SCBWI members!
And here it is in its new home: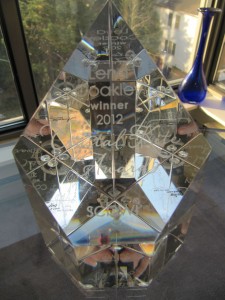 All in all, a great weekend!